Welcome to Timberwatch
About Timberwatch
What Timberwatch does
Support our work
New Report on REDD+ and the Underlying Causes of Forest Loss
Warsaw, Poland – 13th November, 2013
A new report released here today by the Global Forest Coalition (GFC) at the 19th United Nations Climate Conference (UNFCCC COP19), concludes that projects and policies related to "Reducing Emissions from Deforestation and Forest Degradation and Enhancing Forest Carbon Stocks" (REDD+) fail to address the underlying causes of forest loss, and could contribute to further deforestation instead.
Click on the image below to access the report (PDF 2MB)
Forest Loss in Africa
Two of the five country studies in the report are from Africa - From Uganda and Tanzania - and which highlight that there are many external drivers of forest loss that need to be addressed at a global level, in particular excessively high demand for carbon offsets, biofuels and meat products from industrialised countries, which has triggered a rash of land grabs in developing countries.
Traditional community small-scale subsistence agriculture is often blamed for deforestation, but in reality this causes much less damage to the soil than the large-scale industrial plantation model that also displaces local communities from their land. This often results in hardship and suffering among affected local communities and inevitably leads to even further forest loss.
In the final analysis, REDD+ is likely to make this situation worse!
Wally Menne
plantnet@iafrica.com
Tel: +27 (0) 82 4442083

Skype: wally.menne
~~~~~~~~~~~~~~~~~~~~~~~~~~~~~~~~~~~~~~~~~~~~~~~~~~~~~~~~~~~~~~~~~~~~~~~
New briefing on FSC certification of plantations
WRM International Secretariat
Following with the contributions for September --the month in which the International Day against Monoculture Tree Plantations is celebrated-- we would like to share with all of you a new tool.

For many years WRM has been denouncing the FSC certification of monoculture tree plantations. The scale of these monocultures is one of several reasons for such opposition. Large-scale tree plantations occupy vast areas of land leading to displacement of communities, they consume huge amounts of water and soil nutrients and require enormous amounts of agrochemicals. These characteristics make them intrinsically unsustainable and therefore they can't be certified as 'sustainable'. Since the early 1990s, communities have faced an additional difficulty in their struggle against plantations: a label that says that the plantations surrounding their communities and that occupy their lands, contaminate the soil and water is sustainable. Yet, the struggle against these very plantations and the companies that own them continue, because the impacts on the communities, the landscape, biodiversity and water remain unchanged.

However, despite this ongoing opposition against FSC certified plantations, we don't see companies losing the FSC seal. This new WRM publication tries to answer this question. The briefing "FSC consultation and complaints procedures: the case of Veracel Celulose in Brazil" is an example of the unequal 'dialogue' between communities struggling to halt industrial tree plantations and certification schemes claiming to improve large-scale monocultures.
http://wrm.org.uy/bulletins/issue-193/
International Day of Struggle against Monoculture Tree Plantations
South Africa: Pulp Industry expansion -
land-grabbing disguised as community development
During the Apartheid era many South Africans were deprived of their traditional land through laws that led to their displacement – often through forced removals - into remote smaller areas with marginal agricultural potential. At the same time, the South African government of the day was busy converting land taken from rural communities to establish vast monoculture plantations of alien trees, with the intention of supporting a pulp and paper industry that would help to reduce dependence on imported products, as well as reduce exposure to trade sanctions.
A state-owned company called SAPPI – South African Pulp and Paper Industries – was established to implement the plan, and although the company was later privatised, the South African government still holds a substantial stake through the IDC (Industrial Development Corporation). Now known as Sappi Ltd, with various subsidiary companies, it has grown into a huge multi-national corporation, with vast land and equipment assets spread across the planet.
Recently, Sappi has shifted its focus away from paper production towards manufacturing chemical cellulose, for which it appears there is potential growth in demand, mainly from China. With a view to capturing a slice of this new market Sappi has embarked on a major transition process involving selling or closing down a number of its smaller or older mills, which caused major health problems in the areas where they were situated, besides leaving a legacy of polluted land and water.
Part of this process involves enlarging and converting two large mills in SA, as well as one in the US, to chemical cellulose production, which will require increased supplies of cheap raw material in the form of eucalyptus logs. In South Africa, the Sappi mill at Ngodwana in Mpumalanga province has been converted and considerably enlarged, and will now require much more eucalyptus wood as feedstock. This means that besides creating new eucalyptus plantations, existing pine plantations now need to be converted to eucalyptus, which has far worse environmental impacts, especially in terms of water consumption and invasiveness.
However the existing Sappi Saiccor cellulose mill (1) at Umkomaas in KwaZulu-Natal province has been substantially expanded, increasing its production capacity to nearly a million tonnes per annum and this has led to Sappi going on an aggressive campaign to obtain more timber from nearby sources.
It is a general principal that in order to be profitable for the company from a transport cost point of view, logs need to be procured from within a distance of 250km from the mill. This has meant that large areas of local community land within the so-called "catchment" of the mill have been targeted for the establishment of new plantations.
The Sandanezwe (2) (coincidentally also the name of an invasive weed – Chromolaena odorata) plantation in the Ingwe area is one such project that will take 405 ha community land that is on the government allocation list for new plantations in the Umkomaas catchment area. Projects like this have been driven by Sappi and the government using so-called 'community development' consultants like Awethu Forestry Investments (Pty) Ltd and NGOs such as LIMA, with strong ties to the timber industry.
Special concessions have been made for these projects based on the argument that the local community had itself requested permission for the plantation, while in reality it was Sappi working behind the scenes and misinforming the local leaders, who actually submit the licence applications to government! The claimed financial benefits of plantations are emphasised, while neglecting to mention any of the negative social and environmental impacts that would have to be paid for by local people and future generations who would lose their rights to land and water.
(1) Engineering News: Sappi to issue notes for bond payment, expansion
http://www.engineeringnews.co.za/article/sappi-to-issue-r5bn-notes-for-bond-payment-expansion-2013-04-15
(2) Draft Review: Ingwe IDP 2013/2014, http://www.ingwe.gov.za/upload/Ingwe%202013-14%20IDP%20Draft%20Review%204.pdf
By Wally Menne, e-mail: plantnet@iafrica.com
---
(Click above to download as pdf)
Externalised costs and the harmful effects of industrial tree plantations need to be far better understood by governments in Africa and elsewhere around the world. The numerous social problems and negative environmental impacts caused by expanding tree plantations in developing countries in the South are driven mainly by high demand for throw-away paper products and packaging used or wasted by ordinary people and businesses in affluent Northern countries.
However additional new demand for plantation biomass as a fuel for power stations and other energy-intensive industrial processes is now causing unprecedented pressure on African land and water resources. Globally the timber industry has responded to this increased demand for wood and other tree derived industrial substances such as chemical cellulose, by further increasing the area under tree plantations, especially in remote regions where community awareness of their negative impacts is low, and there is limited political understanding or oversight. Countries being targeted in Africa include Mocambique, Tanzania, Uganda, South Sudan and the Democratic Republic of Congo.
A mountain of woodchips being stockpiled for export from Richards Bay harbour
Because countries in Africa are perceived to be a source of cheap labour, land and water, and Northern governments and global financial institutions like the World Bank and the IFC (International Finance Corporation) support timber industry expansion with grants, loans, subsidies and incentives, and/or there may also be inadvertent weak local government, precious biodiversity, land and water resources can be easily be alienated from legitimate local community owners, and then overexploited or even destroyed through the harmful impacts of large-scale monoculture tree plantations.
Fast-growing industrial tree plantations generally need to be grown in areas with deep fertile soils, and can consume even more water than the normal rainfall can provide. This often results in water being 'stolen' from the surrounding water table, thus causing streams and wetlands to dry out, which also jeopardises local food farming activities and community water supplies. The excessive use of ground and surface water by evergreen plantation trees such as eucalyptus and pine during dry seasons also leads to more serious localised droughts; and this in turn contributes to increases in plantation wildfires that also destroy people's homes and crops and harm biodiversity.
Many of these negative impacts will also cause suffering to innocent future generations, whose lives will be negatively affected by the degraded land and polluted water resources left behind by the timber industry. Millions of hectares of potential food-producing land are being systematically damaged by timber plantations that have already caused the complete loss of topsoil in some areas. To make matters worse, tree plantation activities also cause the rapid spread of alien invasive plants into areas where they never existed before, and the alien plantation tree species used, including eucalyptus, mimosa and pines, are in themselves extremely invasive, having already infested millions of hectares of grassland, wetland and forest in South Africa thanks to the negligence of timber plantation owners and lax government oversight in the past.
Plantation wildfires have become more frequent in many parts of the world including this recent one in Gippsland, South Australia, shown here
In South Africa, great environmental damage has been caused by the plantations and pulp mills of multinational paper company Sappi, which has large polluting mills sited on rivers near the towns of Umkomaas, Stanger, Nelspruit and Mandeni. However the pulp and paper mills of Mondi at Merebank, Felixton and Richards Bay also cause severe air and water pollution, whilst consuming cheap dirty energy purchased from the national electricity provider Eskom. Both Sappi and Mondi have made token efforts to reduce their environmental impacts, such as by burning timber waste in their boilers and using recycled 'grey' water in the pulping process. Unfortunately these puny efforts have miniscule benefits for the environment and local communities, especially when they are being used to help justify increased production and even more plantations. Thus there is a situation where overseas consumers of pulp and paper products produced in South Africa benefit from unrealistically cheap prices while local ecosystems and communities must suffer the real costs of health and environmental impacts caused by the industry.
Pulp and paper production is also one of the worst contributors to climate change through its extremely high consumption of energy derived from fossil fuels; and the CO2 and methane emissions released during the full industrial production cycle of paper and packaging, which includes initial destruction of natural vegetation or farmland, heavy applications of toxic chemicals and pesticides, the use of fossil-fuels in plantation timber logging, transportation and processing, and finally the greenhouse gases emitted by mill sludge, paper and packaging waste, and billions of used disposable nappies that lie rotting in dumps. The idea that the tree plantations which are part of this process could somehow reduce or sequester greenhouse gas emissions, and therefore qualify to earn carbon offset credits is ludicrous at best. The same applies of course to the perverted concept known as REDD+ which purports to be able to offset carbon emissions from industrialised countries by "enhancing carbon storage" with industrial tree plantations!
An enormous ash and sludge dump at the now abandoned Sappi Usutu
kraft mill at Bhunya in Swaziland
Another major impact of industrial timber plantations is their massive direct and indirect destruction of wildlife and biodiversity, especially in grasslands and woodlands that is caused by converting natural habitat into tree plantations. This also has severe negative implications for the livelihoods of rural communities who traditionally depend on wild plants and animals for housing, food, clothing and medicines. The loss of biodiversity translates into an additional burden on governments and NGOs to provide alternative supplies of food and medicines, and the situation is exacerbated by the migration of people displaced from transformed rural areas to urban squatter slums. This places an even greater financial burden on taxpayers and the state, which amounts to yet another indirect subsidy to the timber plantation industry.
Slopes stripped bare of topsoil in 'responsibly managed' plantations of Sappi in South Africa, yet they are still certified by the FSC (Forest Stewardship Council)
Most of the social and environmental costs of tree plantations are therefore 'externalised' or transferred to other sectors of society, usually Indigenous Peoples and poor rural communities; but also to future generations who will have had no involvement in the decisions to destroy their land. If these externalised costs, as well as the cost of restoring the land to its original healthy state were to be fully accounted for and included in the costing of the paper, packaging, biofuels and other disposable or combustible commodities made from plantation trees, it should result in a more equitable valuation where the true full cost of the product is reflected in its selling price. This would have the desirable effect of quickly driving down wasteful production and consumption, whilst also making waste wood and paper products far more valuable, thus leading to a situation where 100% recycling would be possible, creating numerous jobs, and preventing the wasting of much precious biodiversity, topsoil, water and energy.
In an African or developing nation context this approach should also have a positive outcome in terms of how community land is valued, because at present it is often perceived as underutilised or 'wasted' and therefore heavily under-valued or under-priced by global standards. At the moment many regions in Africa are suffering extensive land grabs, where foreign companies are easily able to cheaply obtain long-term ownership of precious community land for next-to-nothing in terms of financial cost. One particularly bad example is that of the Norwegian company 'Green Resources Ltd' which has managed to obtain long leases on over a million acres of community land in South Sudan, Uganda, Tanzania and Mocambique for a proverbial 'song'.
Effluent from the Sappi paper mill at Stanger in South Africa where the
(in)famous "Triple Green" paper brand is produced
It should be obvious that industrial tree plantations represent a major threat to the long term sustainability of not only African peoples' livelihoods but also to affected local communities in countries throughout the world, including in so-called developed nations like Australia, Ireland, Spain and Portugal. However the global timber industry, stupidly supported by large international 'conservation' organisations such as the WWF and Greenpeace, has succeeded in hoodwinking the world through the use of a cleverly devised scheme known as "Forest Certification" that effectively green-washes the timber and paper products of even the worst managed forests and tree plantations. The best known scheme (or should that rather be scam?) is that of the FSC (Forest Stewardship Council) that has devised a feel-good marketing system that glibly assures consumers that FSC certified timber products are from "responsibly managed forests"!
For more information please contact Wally Menne (Project Co-ordinator)
Timberwatch Coalition
Box 30577 Mayville 4058 South Africa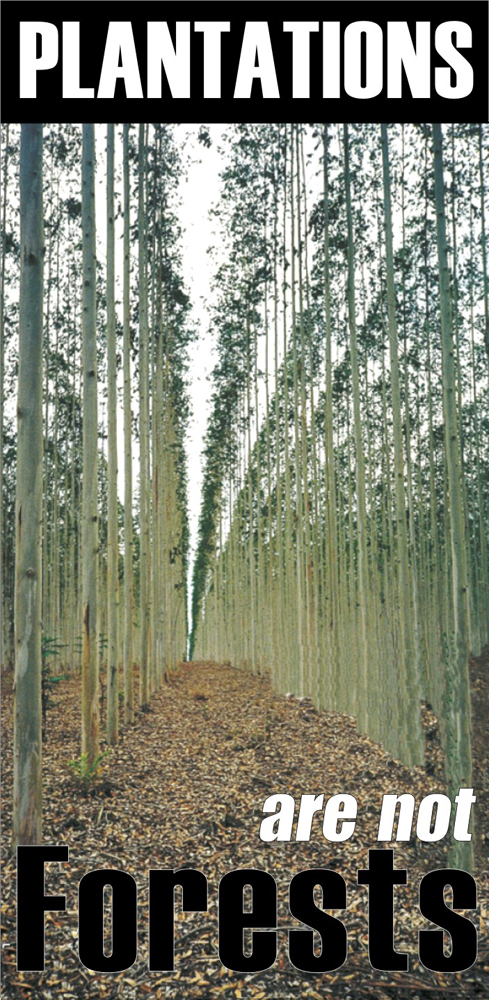 Fake Forest Day Video Report
and Speaker Presentations
For those who were not able to attend 'FAKE FOREST DAY' held in Durban during the UNFCCC COP17 climate change action delaying negotiations, a short video overview of our event can be viewed at
Speaker presentations are on YouTube at the links below:
Winnie Overbeek of the WRM (World Rainforest Movement) speaks about the International Plantations Campaign, and how monoculture tree plantations impact on forest peoples...
Carlos Afana of UNAC in Mocambique (Member of La Via Campesina) speaks on how plantations established on community land impact on peasant farmers' livelihoods
Simone Lovera of the Global Forest Coalition (GFC) describes problems arising from the confusing official definitions applied to forests and tree plantations
Tom Goldtooth of the Indigenous Environmental Network (IEN) speaks at the Fake Forest Day held in Durban on 4th December 2011 on how monoculture ...
Tsietsi Chabatsane from Lesotho describes the effects of tree plantations in his country.
Blessing Karumbidza of the Timberwatch Coalition in South Africa speaks on the establishment of monoculture tree plantations as a false solution ...
BiofuelWatch's Rachel Smolker speaks on the dangers of the large-scale demand for biomass as fuel in energy generation. See www.biofuelwatch.org
Representing the South Durban Community Environmental Alliance (SDCEA), Bongani Mthembu describes how the processing of timber from industrial ...
Helena Paul of Econexus describes the way in which large-scale tree plantations destroy biodiversity and undermine the livelihoods of rural people.
Anne Petermann of the Global Justice Ecology Project (GJEP) provides an overview of the state of play with the timber industry pushing of ...
Philip owen describes how GeaSphere actively opposes the spread of timber plantations which destroy biodiverse grasslands and impact negatively on ...
Larry Lohmann of the Corner House in the UK explores the links between tree plantations and colonialism.
~~~~~~~~~~~~~~~~~~~~~~~~~~~~~~~~~~~~~~~~~~~~~~
Tanzania Carbon Sink Tree Plantation Study
final r

eport now available!

(March 2011)
In December 2009, Timberwatch released a preliminary report titled: Potential Impacts of Tree Plantation Projects under the CDM - An African Case Study.
After visits to the site of the proposed Idete CDM tree plantation project in southern Tanzania in 2010, and gathering additional information, the findings have been documented in this comprehensive 90-page report with numerous photographs.
Click on the cover image to download the report file (pdf 3MB)
CDM Carbon Sink Tree Plantations - A case study in Tanzania - Overview:
This new report provides greater insights into the motives and activities of the Norwegian owned company Green Resources Ltd (GRL), in the Mufindi district of Iringa province in southern Tanzania.
It tackles questions concerning the sustainability and economic viability of alien invasive tree plantations, as carbon emission offset projects under the Clean Development Mechanism (CDM) of the Kyoto Protocol (KP).
The report describes a proposed, though already partially planted, CDM tree plantation project at Idete, from which GRL hopes to earn Certified Emission Reductions (CERs). The company hoped to sell the carbon credits from establishing alien pine and eucalyptus plantations in biodiverse grasslands described by GRL as 'degraded', to the government of Norway. To earn CERs under the CDM, it should be shown that the project would not have been financially viable without income from the sale of CDM carbon credits. This report challenges assumptions used to justify claims that the project will be a net carbon sink over its lifetime, showing that the opposite is more likely to be the case.
There are contradictions in the role of the government of Norway, as a major oil producer and exporter through Statoil, contributing substantially to global greenhouse gas (GHG) emissions, while financing an environmentally destructive plantation sink project. It has entered into an agreement with GRL to purchase 400 000 carbon credits, subject to the Idete plantations receiving CDM temporary CERs. On the other hand, Norwegian public funds have also been invested in Green Resources Ltd.
Norway wishes to occupy high moral ground and therefore seeks to align itself with progressive policies in social, environmental, human rights and other development issues. In view of the need to address climate change, Norway has committed itself to mitigation projects around the world, seeking to buy more than 6 000 000 carbon credits. The GRL plantations therefore represent an important political investment for the Norwegian government.
Timberwatch has studied the social, cultural, political and economic impacts of industrial tree plantations in South Africa and Swaziland, and has concluded that monoculture tree plantations are non-sustainable from many points of view, even with market-based conservation measures such as Forest Stewardship Council (FSC) certification in place. This research showed major problems with land being alienated from displaced local communities, poor working conditions, the destruction of biodiversity resources upon which communities depend, reduced water availability, and many other direct and indirect effects that impact negatively on local livelihoods.
The industrial tree plantation model is designed to support corporate financial accumulation through so-called 'economy of scale' but it ignores their negative effects especially heavy water use and biodiversity loss. Large-scale tree plantations often cause the economic and social marginalisation of local communities. In this instance, the governments of Norway (via GRL) and Tanzania do not appear to have ensured meaningful decision-making for the affected communities. Despite institutional mechanisms being intended to facilitate participation, in reality they serve little purpose other than to green wash. Full and free prior informed consent (FPIC) principles do not appear to have been followed.
Good intentions in project founding and establishment documents are not implemented on the ground. This does not necessarily worry the governments and the companies involved as it also means greater profits. It is clear that the government of Tanzania lacks capacity to protect affected communities from abuse and marginalisation during the course of the project. It seems that the government of Tanzania could have agreed to this type of project in the hope of receiving foreign investment in the short term, whilst ignoring long term social and environmental issues.
Another concern is that equitable distribution of income from foreign investment projects is not a strong point of developing country governments. Very rarely do taxes and deductible benefits accruing from a project sanctioned and coordinated at the national level get back to the local communities affected by the activity. This is true of many African countries besides Tanzania and strengthens the case for community self-determination and management of community-business relations. Where this is not possible, mechanisms could be put in place to ensure that a substantial percentage of the income from a project is invested at the local level.
There is a fundamental problem in developing countries such as Tanzania in that opportunities for resource exploitation in combination with large tracts of relatively cheap land are being grabbed by Northern corporations and their local agents. Such 'investments' bring a host of new problems, including contagious diseases, especially those transmitted via sexual activity. HIV-Aids is increasing, reaching deeper into previously un-afflicted communities. This trend disadvantages affected communities, and results in the destruction, degradation or pollution of the natural landscape, while impacting negatively on biodiversity, local culture and water resources, and serves to perpetuate poverty at a national scale.
The report confirms propositions based on similar experiences included in the preliminary report. We hope that existing and would be CDM carbon sink tree and agrofuel plantation projects around the world will in future carry out more inclusive, thorough and wide ranging advance studies to establish the benefits or otherwise of such projects in each local setting.
Acknowledgements: This project was made possible through support from the Siemenpuu Foundation in Finland. Envirocare in Dar es Salaam took part in and helped arrange workshops and field trips during our visits to Tanzania. Our sincere thanks go to community members and leaders, NGO representatives, managers and workers at Green Resources Ltd, and government officials who shared their views and experiences with us.
About our website
www.timberwatch.org has been established to provide access to a wide range of information on topics linked to the industrial production of tree plantation-based industrial raw materials.
We aim to create much needed public awareness of the wide-ranging negative social and ecological impacts caused by industrial tree plantations, so that communities in southern Africa and elsewhere will be better equipped to protect themselves from environmental deterioration and the social disruption that accompanies the large-scale establishment of tree plantations.In this section: About Timberwatch What Timberwatch does Support our work